Home » Social events
Social events
We have a variety of annual, regular and one-off social events throughout the year – not all involving running!
Social events are only open to club members unless stated. Watch this page for confirmation and dates of upcoming events.
Upcoming social events
Social events yet to be announced.
About our social events
Awards Dinner and Dance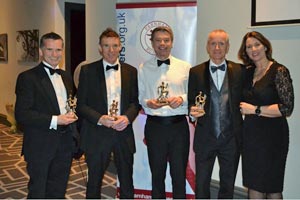 We hold our Annual Club Dinner and Dance at the beginning of each year.
The evening usually includes a 3 course dinner, presentation of awards and trophies for the previous year, disco and dancing, and a charity raffle. It is open to members, families and friends.
2020 Awards Dinner press release
Press releases for previous Awards Dinners
Club Championship and BBQ
The Club Championship is held annually at the end of June and is followed by a BBQ with drinks available from the Club House bar. The race is only open to Club members but family and friends are welcome to the BBQ.
» Read more about the Club Championship
Club Handicap in fancy dress
This annual race for fun in fancy dress is held around Christmas / New Year and is your chance to run against and perhaps beat those 'racing snakes' on more even terms!
It is followed by mulled wine and mince pies and the 'draw' for the Farnham Runners London Marathon places.
» Read more about the Club Handicap
Club Suppers
These usually take place on the last Wednesday of the month after training. The Club supper evening is where we get to try out our fellow club members' cuisine.
If you want to volunteer to try out your cooking skills at any of these evenings, please contact our Social Secretary.
Pub and social runs
We go out to a 'not so local' pub or location to run in a new area followed by some food. Runs of different distances and speeds are organised.
We also occasionally take part in Hash Runs with local running clubs, usually followed by a BBQ or pub meal.
Mince Pie and Mulled Wine Fun Run
Our annual social fun run around Farnham in December – fancy dressed for the festive season with stops for mince pies, drinks and carols.
Press release for 2019 Mince Pie Run
New Forest 10 camp and run
Held over a weekend, we occasionally participate both in the Brockenhurst parkrun on the Saturday and then the New Forest 10 on Sunday!
A group of Farnham Runners (plus families and friends) camp for the weekend (one or two nights), and some come just for the day.
We usually camp at the Long Meadow Campsite, Brockenhurst, which should be booked directly mentioning Farnham Runners if we arrange a club weekend.
"Not a mountain marathon" (NAMM)
Held some years, the NAMM is a treasure hunt style event that takes place over a weekend with an overnight stop at a local campsite and can be walked or run, either as a family or as a team.
A map, pens and sheets with clues and grid references are provided. Once teams have plotted the locations on to the map, they can choose which of the clues they try to answer as they make their way to the campsite.
Race The Train camp and run
Race the Train is an annual cross country running event held in August that takes place in Tywyn, Mid Wales. The race is organised by Tywyn Rotary Club, and attracts runners from all over the world.
In the main event, runners compete to beat a steam train on the preserved Talyllyn Railway over a distance of 14 miles or 10K. Spectators are able to ride on the train and shout encouragement at passing runners.
A group of Farnham Runners (plus families) often participate and camp for the weekend.
Various other events
From time-to-time we organise one-off events.