Hampshire Road Race League (HRRL)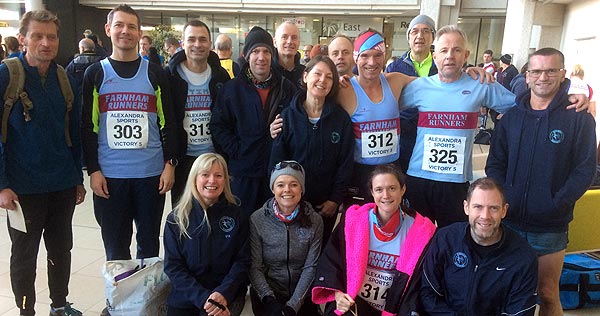 The Hampshire Road Race League is an annual competition between running clubs in Hampshire. A series of road races between September and June are selected around the County for varying distances and location.
All races qualify for participating Farnham Runners towards their annual Grand Prix points total for their respective calender year unless indicated.
All runners must wear a club vest.

For further information and fixture details including maps and entry forms see the Hampshire Road Race League website.
Races for 2021/2022 season
| Date | Race |
| --- | --- |
| 5th Sept 2021 | Overton 5 mile |
| 19th Sept 2021 | Lordshill 10k |
| 21st Nov 2021 | Gosport Half Marathon |
| 5th Dec 2021 | Victory 5 mile (City of Portsmouth) |
| 16th Jan 2022 | Stubbington 10k |
| 6th Feb 2022 | Ryde 10 mile |
| 3rd April 2022 | Salisbury 10 mile |
| 8th May 2022 | Alton 10 mile |
| 15th May 2022 | Netley 10k (Southampton) |
| 19th June 2022 | Alresford 10k |
Races at the end of the 2019/20 season and the complete 2020/21 season (apart from the Alresford 10K) were cancelled due to the Covid-19 pandemic.
Press releases for 2021/22 season »
About the league
The races are selected by the league organisers to be a variety of distances, from 5 miles to 20 miles, and spread within the county. There are separate leagues for women and men, both for teams and individuals.
Club teams score points through the success of their runners, and the series culminates in awards to the highest placed teams in the leagues. Clubs can have multiple teams and these enjoy a wide participation of runners of all standards, abilities and ages (from senior upwards).
Individuals score points from their finishing positions in the races. The Individual leagues consist of the top 50 men and the top 50 women in each of the 10 races.