Bushy Park 5km time trials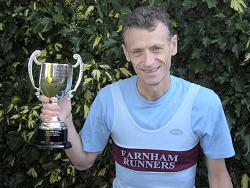 Farnham Runner Mike Anderson has won the coveted John Hanscombe trophy for his superb efforts in the in Bushy Park 5km time trials over the last year.
He topped the Gents' table by an overwhelming 896 points, having completed 52 of the 54 Saturday morning events and he points out that the second placed runner was half his age! His best position was 4th and his average 8th out of a usual field of 400.
He also heads the board for the M50-54 group with a splendid 17.25 that gives him an 84.69% age-graded ranking when compared with world-class athletes.
He has already begun this season back on top of the league, just one second off his previous M50-54 best (17.26) in the first race and one second behind the winner in the second.