TRXCL Farnham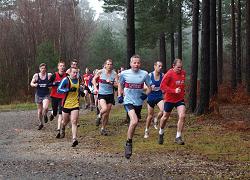 Farnham Runners race director Charles Ashby warned the 216 assembled runners before the start of the Farnham Today's Runner Winter League cross-country that underfoot conditions were the most difficult ever experienced, as early that morning some of the course was still covered in water after the previous day's torrential rain.
However, by the time of the race most had drained away and the surface was relatively good compared with many other races in this league. Some even complained about the lack of anticipated mud!
For the second consecutive year Farnham Runners won a convincing victory over the other 18 clubs in the league. Both men and women won their sections and each of their teams had the highest number of runners, even though the host club provided the marshals.
Second men's team was Victory AC and third was Hart Road Runners, while Stubbington Green Runners were runners up ladies with Hart Road Runners again third. Overall Hart Road Runners and Stubbington Green Runners tied for joint second place. Daniel Bailey of Victory AC led in the 142 men, Denmead Striders' Richard Berogna and Dave Woods taking 2nd and 3rd respectively. Polly Keen of Havant AC was first lady followed by 2nd placed Georgie Gair of Victory AC and Sarah Hill (3rd), representing Farnham Runners for the first time.
As usual it was the close packing of the Farnham teams that led to success. Captain Dan Smith led in his team in a fine 8th position with Steve Kitney 15th, Andy Eakins 16th, Bob Brimicombe 23rd and Charles Ashby 24th.
For the ladies new member Sarah Hill showed her mettle with her excellent 3rd place, followed by Jane Georghiou 10th and Frances Britain 13th.
Other Farnham placings:
Men: Stuart Morgan 27, Mike Anderson 34, Steve Murphy 35, Paul Beesley 52, Tim Cummins 57, Nick Hill 59, Mike Walberton 60, Nick Hitchcock 72, Dave Armstrong 74, Terry Steadman 78, Scott Salmon 83, Chris Cramp 85, Alan Froud 93, Graham Higgins 98, Steve Payne 99, Simon Brander 101, Phillip Wallace 114, Richard Sheppard 130, Simon Clarke 131, Mark Hazelden 132, Lee Mepsted 140.
Ladies: Lindsay Bamford 24, Gabi Hitchcock 25, Caroline Wharton 44, Julie Russ 54, Rebecca Martin 60, Caroline Freeman 61, Sue Goater 63, Lisa Smith 70, Michele Dixon 71, Jenny Andrews 72, Gill Kenny 73.
Charles Ashby had recruited a group to help him set up the course and some members gave up their own chance to run by volunteering to help on the day. Relatives and friends also provided essential assistance and social secretaries Jo Staples and Jenny Andrews organised the refreshments for the hungry runners after the race. Former chairman Andy Smith took on a key role as lead cyclist while Ann Prince, one of the club's founder members, made an enthusiastic marshal.