2009 London Marathon and Shakespeare Marathon
London Marathon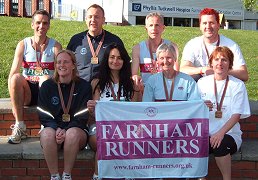 Farnham Runners' efforts in the London marathon have netted around £8,000 in sponsorship for charity this year with three of the eighteen raising over £2000 each.
The pleasant weather for spectators meant rather warm conditions for the runners but some from the club gained very creditable times. All benefited from enthusiastic support from other members, relatives and friends.
A coach, organised by chairman Dan Smith, left Farnham at 6.30am with all the runners apprehensive as to whether they could achieve their planned goals, some running the gruelling distance of 26.2 miles for the first time.
Graham Wilton headed the Farnham contingent in an excellent time of 2 hours 54 minutes 42 seconds. He placed 67th out of almost 3,000 in the M45 category. Another with an enviable sub 3-hour time was Steve Kitney (2.54.44, 125th M40), who took almost a minute from his previous best set in the Loch Ness marathon two years ago. Charles Ashby deducted a 4-minute chunk from his previous best for 3.07.46.
Dan Smith's recent injury problems hampered his usual pace but he still managed a worthy 3.16.33.
Raising £2,500 for the Phyllis Tuckwell Hospice, Mike Walberton kept up a consistent pace for most of the distance, achieving a very commendable 3.23.15 on his debut, ahead of Liam Duffy in 3.23.44.
Jane Georghiou placed 6th in the W55 category with 3.28.53, 479th of 11,000 ladies, and raising funds for Leonard Cheshire Disability.
Running in his 15th consecutive London marathon for the same charity Vince Crowley crossed the line in 3.46.23 while Tim Cummins' new PB is 3.49.21. Stash Hutten (4.15.01) and Kim Mepsted (4.23.22, debut, her charity Cancer Research) both exceeded 4.30 targets. Matthew James recorded 4.27.41 while Peter Strange has raised £2,000 for the Outward Bound Trust (4.37.15).
Richard Sheppard (charity Tommy's) and Emma Doven clocked 4.38.10 and 4.49.43 respectively. Nick King (5.07.44, debut) gained over £800 sponsorship for Bowel Cancer UK and Andrew Perrin (5.24.53) collected £2,000 for the Treolar Trust.
Shakespeare Marathon
Meanwhile Frances Britain completed the midlands Shakespeare marathon on the same day in a fine 3.34.16, a personal best by an amazing 20 minutes. She placed 3rd in the W35-44 category and finished 13th of 190 ladies.