National Cross Country Final, Paris Marathon and Goodwood Duathlon
National Cross Country Final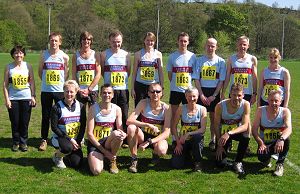 Farnham Runners have finished an excellent third in the Today's Runner Winter League National cross-country final. They won eligibility for entry by winning the Hampshire area series and a cheerful band of sixteen travelled all the way to Halifax to take part in the event organised by Stainland Lions Running club.
The leagues were originally co-ordinated by the now defunct "Todays Runner" magazine but were so popular they have carried on since in most areas of the country with a final for the winning teams each year. The courses are of about five miles and comprise a variety of challenging terrain.
The proximity of Halifax to the peak district and the Stainland club's website with its frequent mention of fell-running did nothing to dispel fears of a particularly challenging run ahead for the Farnham group. The course did not disappoint. Steep inclines up on to the fells had even the fittest admitting to walking sections and tricky descents over rocks and dried ruts meant concentration on careful footwork gave little scope for admiring the views on a magnificent spring day.
Farnham Runners were delighted when the results were announced to find that their long journey had been rewarded with third place, a club record by far, the previous best being 12th in 1989.
Graham Russ tackled the rugged course with his usual style to lead them in with a superb tenth place. The next six men jostled as usual in the league races for a high place in the scoring team. Charles Ashby came out on top in a fine 12th and his exuberance was unsuccessfully contained on the return by a spell in the drivers' seat of the minibus. Ian Carley next in 16th was followed closely by Steve Kitney (19th) and Dan Smith (20th). Julian Mann (24th) and Steve Murphy (27th) made up the score. Andy Tweed (38th) headed a trio with Richard Cieslik 45th and Chris Cramp 47th. Unfortunately Mike Ashworth having travelled so far became a victim of the uneven surface.
The ladies team counted together with the men's for the final result of third. Michelle Cooper headed them home with an excellent 6th place, while Jane Georghiou was pleased to gain a position inside the first ten (9th). Catherine Bradley made a very useful contribution to the team result in 16th place, with Julie Russ (18th) and Caroline Freeman (19th) not far behind.
The successful group enjoyed a memorable day and are already looking forward to next year's cross-country season.
Paris Marathon
Many of the runners who journeyed to Halifax are entered in the Flora London Marathon (26th April). Already a stiff challenge has been set by Michael Rix whose rigorous training was rewarded with an outstanding result in the Paris Marathon. His chip time of 2.44.16 should get him a championship place at next year's London race. He was delighted to be 5th British runner home and 206th of 31,373 finishers.
Peter Slump and Tori Shaw also completed the Paris Marathon and gained creditable times of 3.44.16 and 4.36.17 respectively in their first attempt at the gruelling 26.2 mile distance.
Other races
Mike Anderson has again beaten his M50 5km club record, shaving off another two seconds for 17mins17secs and has discovered that his Eastleigh 10km result of 35.12 has crowned him Hampshire M50 10km 2009 champion.
Meanwhile Stuart Morgan was top veteran (M40) finisher in the competitive Goodwood Duathlon (short course) and was third overall.