HRRL Salisbury 10 miles, Spitfire 20 miles, BMAF Cross Country Championships and Surrey Half Marathon
HRRL Salisbury 10 miles
A chilly but gloriously sunny day cheered runners on their 10 miler at Salisbury, the ninth event of twelve in the Hampshire Road League. Voted into the "top 10 best UK ten mile road races" in Running magazines the scenic route follows the banks of the River Avon through the gently undulating Woodford Valley, with fine views of the cathedral spire on the return leg.
Fifteen Farnham Runners supported their teams, the men having A, B and C squads with four to count in each and the ladies A and B with three counters apiece.
Farnham's A squad men gained another three points against rivals Portsmouth Joggers in their bid to head Division Two, both clubs looking safe for promotion at the end of the series. James Warren led in the men with a fine new personal best 1 hour 53 seconds as 34th finisher of over 700 to place 10th in the M40 category. Next were strong team members James Clarke in 1:01:14 and Stuart Morel in 1:01:55, with Charles Ashby making a very worthwhile return to racing as final A counter in 1:04:18.
The Farnham men's B team is safe in B Division One, lying 5th with a position of 7th on the day. They were Stuart Haig (PB 1:05:37), Mike Walberton (1:07:28), John Phillips (PB 1:09:14) and Keith Marshall (1:14:26).
Promotion to B Division One for the C team that lies fourth is still possible as three races will be discounted at the end of the season. At Salisbury the incomplete team of three placed 12th of 17 in that table: Peter Chapman PB 1:17:13, Geoff Brown PB 1:17:52 and Alistair Hardaway 1:21:48.
The ladies are safe in the top division at fifth slot, though coming ninth of ten on the day. Kayleigh Copeland gained a new personal best of 1:16:56, followed by Tina Harrison PB 1:22:21 and Mary Denise Fitzgerald PB 1:26:03, while Kathy Brown (1:46:37) was unsupported for the B team that lies 9th of 14 clubs
Spitfire 20 miles
Six members included the Spitfire 20 miler as part of their marathon training. Sarah Hill continues to shine, winning the ladies race by almost ten minutes. She clocked 2:06:04 over the undulating roads near Dunsfold Park. Next came Stuart Williamson (2:16:34, 9th M40), while Emma Pearson was 10th F35 in 2:43:58. Not far back was Lucy Hogg (2:45:21, 14th F35) and Paul Day (2:51:16) both in their first 20 milers. Shirley Perrett was 7th in her category in 3:16:29.
British Masters Cross Country Championships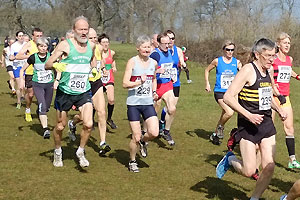 Jane Georghiou represented Farnham Runners at the British Masters cross country championships at Bath, taking 5th in her category over the 6km course with a time of 26:49.
Surrey Half Marathon
Six members chose to run the Surrey Half Marathon: Neil Ambrose 1:34:46, Tristan Greaves 1:39:28 (debut), Alice Healy 1:42:44 (debut), Hallam Foster 1:44:33, Tara Hunt 1:45:58. Alistair Wilson 2:04:50, Laura Mackie 2:57:44.