2018 Club Championship
Very warm conditions didn't deter fifty six Farnham Runners from competing in the 10km Club Championship for twelve age group trophies as well as awards for the overall winners. Unchanged since the inaugural race in 1991, the course is a challenging mix of road and trail with an ascent in the first kilometre, a steep hill in the woods and a long gradual rise near the finish. Then it's a sprint across the Bourne Green to the sound of cheering supporters.
Among the runners this year was the first treasurer of the club in 1985, John de Moraes while another founder member, Allan Bird, the first "Routemaster", had volunteered to marshal.
Race director Craig Tate-Grimes had pre-planned everything to run smoothly on the day with signs, arrows, marshals, "sweepers", manned water stations, accurate timing and recording. He commented,
"We are very grateful to the many members who gave up their time to help. The race could not go ahead without them, including Linda Tyler and Kathy Brown who recorded the times" .
Despite the high temperatures three club records were broken. Sarah Hill took 2 minutes 40 seconds from Jane Georghiou's W45-54 2000 time of 40:35, Andrew Ellison took 1:42 from Geoff Cloke's M50-59 of 39:33 set way back in 1998, while Terry Steadman deducted almost 8 minutes from Peter Strange's 2015 M70+ time of 58:59.
The first four were very close most of the way and all were first in their categories.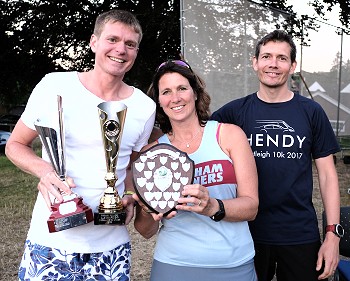 Keen supporters of the club in league races, James Clarke (see photo) was first back in an excellent 37 minutes 38 seconds, first in the senior male category, while not far behind him came Andrew Ellison in 37:51.
Just 4 seconds adrift came Sarah Hill in 37:55 with Matt Saker, first M40, very close in 37:59.
Rob Gilchrist had to settle for 38:15 as 2nd M40 and James Warren as 3rd M40 in 38:47.
Andrew Ellison explains how exciting a race it was at the front:
"Right from the start, James Clarke went ahead and a following group of myself, Sarah Hill, Rob Gilchrist and James Warren followed, letting James go but never out of sight. After a mile, James and I let Sarah and Rob go ahead a bit and twice we saw them walking uphill but this was just 'ultra-distance' tactics, allowing them to save energy and catch up and overtake again. The second time, I overtook them and as I turned the last corner towards The Green, I saw Sarah just behind me and had to run out of my skin to avoid being caught in a sprint. It was the hardest I had ever run a race in my life and certainly the closest Club Championship in my memory. Fantastic!"
Stephen Elliott-Nichols in 40:47 won a battle with newcomer David Roy in 40:57 for 2nd place in the senior male category.
The only under 23 competitors were Toby Loomis in a very respectable 41:34, while Eloise Stradling (see photo) took the ladies U23 shield for the sixth time in 47:41. First M60 Keith Marshall recorded 45:24.
Emma Russ was first senior lady in 45:43 with first F35, Emma Pearson, not far behind in 46:07.
Terry Steadman clocked 51:03, Kay Copeland was first F55 in 54:26 with Jane Georghiou 1st F64+ in 53:06.
Other times: Harvey Wickham 41:19, Stuart Haig 41:27, Colin Addison 41:46 (2nd M50), Ali Hardaway 42:23 (3rd M50), Neil Ambrose 42:41, John Hill-Venning 43:31, Tim Cummins 43:56, Ben Roseveare 44:11, John Phillips 44:56, John Walker 45:05, Chris Cramp 45:32, Terry Copeland 46:08, Paul Mackie 46:11, Kayleigh Copeland (2nd senior lady) 47:27, Stephen Farrant 48:15, Emma McFarlane 48:20 (3rd senior lady) , Sarah McCulloch 48:24 (2nd F45), Louise Granell 49:30, Steve Bailey 50:28, Lina Haines 51:51, Peter Unitt 52:12, David Boakes 52:21, Simon Brander 53:53, (2nd M60), Kate Townsend 55:00, (3rd F45), Keith Toms 56:28, Rebecca Martin 58:12 (2nd F35), Howard Inns 58:35 (3rd M60), Jonathan Salomon 59:32, Emma Campbell 59:38 (3rd F35), Pauline Hamilton 61:42, Hannah Bence 62:10 (2nd F55), John de Moraes 66:41 (2nd M70), Gulfer Budden 68:17, Julian Saunders 68:18, Jackie Wilkinson 68:51 (3rd F55), Nicola O'Connor 69:14, Susan McKenzie 70:36, Georgi Welch 78:16, Carolyn Wickham 78:35, Robert Drummond 83:29 (3rd M70).
The evening concluded with a Hog roast and presentation of the Awards by club chairman Jacquie Browne. The club's Smiley Award went to Colin Addison for his cheerful willingness to help out on many occasions.