2021 London, Dorney Lake, Manchester, Goodwood Motor Circuit and Brighton marathons
London Marathon
Ten Farnham Runners took part in the actual London Marathon staged on 3rd October and were delighted to be taking part in the mass event after it was only a virtual event in 2020. Between them they raised a sum of almost £8,000 for charity in sponsorship, taking the club total since 2000 to £256,000. Two others ran the 26.2 mile distance as a virtual event, one of them using another marathon race for this.
The start at Greenwich was staggered for Covid-19 safety reasons. Conditions were mostly good, a bit warm when the sun came out and quite windy at times but overall fine for running. There was a heavy shower later on, but most had finished by then.
There were some fast times from the Farnham Runners contingent, some gaining Good for Age status for next year and even one with a Championship place, while others gained personal bests or ran the gruelling distance of 26.2 miles for the first time. Two gained new club records. Very much appreciated support came from friends and families as well as from members, including Craig Tate-Grimes, Keith Marshall and Damian Probett.
First back for Farnham was Matt Saker in an excellent 2 hours 53 mins 51 seconds, just 33 seconds off his PB and a new M50 club record, beating his record set in 2019 by over a minute.
Now living in Northern Ireland and running in his first claim club vest, Rob Gilchrist was delighted with a time of 3:04:48 for a GFA place next year,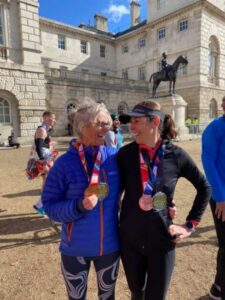 A smiling Sarah Hill, having battled injuries and not doing her normal training still finished in an enviable 3:13:48, for Championship qualification.
Gabriella Hitchcock writes about her excellent run for a PB of 10 minutes in 3:18:41:
"What an incredible experience. Training has paid off, all that time put into it was definitely worth it. I did lose my will to live in the last few miles and regretted my decision running yet another marathon but I kept reminding myself that pain is temporary (it didn't feel like it at that point), to succeed is forever!"
In his third marathon but first in London, Stuart Taylor, who clocked a 5 minute PB of 3:18:32, writes:
"I followed a 16 week plan, and it went very well. Apart from the heatwave at the start, the cool summer helped. It was difficult to judge my pace without doing a half marathon in the build-up, but four training runs over 20 miles really helped my confidence on the day. The speed training at Farnham Runners has really helped my form! On the day it went well, loved it, amazing atmosphere. I have raised £800 in sponsorship for Children with Cancer."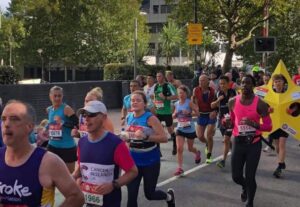 Neil Ambrose put his Farnham Runners' club place to good use with a time of 3:23:12, though he was disappointed not to get a PB of under 3:20 after his training had gone well for this, his 6th actual marathon. He had included intervals for the first time, got a 10km PB and even did 9 runs whilst on holiday in the build-up.
Linda Tyler was very pleased to gain a GFA qualification with 3:53: 25 and to place 36th in her age category. Her training had been interrupted by some injuries and she did a lot of long walks to build up her endurance. It was her 14th London marathon, 15th including last year's virtual and it was her 37th marathon including one ultra and two virtual marathons!
Sarah McCulloch enjoyed being back at a mass event and has raised a huge sum of £2329 for Mind, which is her employer's charity partner. It was her 6th Marathon and 2nd time at London. She clocked 4:08:39. She writes:
"My training was definitely harder this year – fitting it around a full time relatively new job, two children with lots of personal sporting commitments themselves. The race itself was brilliantly organised – and all the volunteers from the bag drop at the Excel to the amazing physios at the end! I had fabulous support from my husband Stuart and my two children, as well as the Farnham Runner support crew and some friends. I would definitely recommend the London Marathon to anyone considering it…. you are made to feel famous for a day!"
Next to cross the finish line in 5:09:03 was Jane Probett who ran the virtual London last year but for whom it was her first real marathon. She writes:
"Wow! What a day! The London marathon was everything I thought it would be and more. I'm so happy to finally be able to run the race I've been training two years for. The crowds were out of this world. I felt like a superstar with everyone shouting my name. I even spotted a glimpse of me on TV!
I was aiming for 5 hours, starting steadily and keeping the pace consistent. I ran all the way and my fuelling strategy paid off. I felt so strong in the last 6 miles and looked like a lunatic smiling all the way. Of course my legs were very painful but I just pushed through. I won a Farnham Runners club place so didn't need to run for a charity. However, I raised £1550 for 'Dystonia UK'. I suffer with Vocal Dystonia, a rare neurological condition which affects the way I speak."
Alison Mungall comments about her first marathon:
"My training was hard as I had a knee injury which delayed serious training until 16 weeks before the event but I was determined to do it and I had lots of support from friends and family. I ran for Pancreatic Cancer UK, as my mother had the illness. It is a fantastic charity, working hard to raise money for research. I have raised £3000 so far! I enjoyed the day very much, and I'm hoping to do it again next year. I'm delighted to find out that my time of 6:51:29 is a club record for my category!"
Sue Taylor chose the challenging Clarendon Way Marathon from Salisbury to Winchester for her virtual event. She was 20th lady of 80 and 5th in her age category. After finishing in 4:44:32 she said:
"That was a super tough trail marathon and I'm absolutely shattered – happy if I don't see another hill for a while! Gorgeous sun for most of the day but at mile 21 it went almost dark and the heavens opened with really strong winds. Thankfully it didn't last too long before the sun came back out again. I'll be looking forward to getting my virtual London medal as well as the Clarendon one!"
Second claim club member Harvey Wickham took a leisurely run and walk along the Blackwater Valley path to record 5:08:27 for the virtual London event.
Other marathons
Ivan Chunnett reports:
"I didn't do the London Marathon or a virtual, it just happened that there was a Dorney Lake Marathon at the same day. In June this year I decided to train for my first marathon, after returning to running after a long gap since my school running school days. My training went well and included a few park runs and races. When I first set out my goal was to be below 4:00, after about a month of training I set an ambitious target for myself of 3:40. In the last few weeks I thought I could get closer to 3:30; in the end I was ecstatic with 3:30:57. The last 7 kms really hurt and I struggled but kept going. I have applied for a ballot in next year's London Marathon, I hope to get in!"
Laura Quinn ran the Manchester Marathon on 19th October. After a couple of set-backs she overcame injury to post a time of 4:42:06, in her second attempt at the distance.
New member Steve Bullough, a teacher at Bohunt School in Liphook, ran the 11 lap Goodwood Motor Circuit Marathon in a splendid time of 2:47:55 on 26th September. He reports:
"My training went well. As I had done a few ultras a few months previously I just kept up my running. During the race I was worried that I went off too quickly but managed to stay with the lead runner for about 18 miles before he showed me a clean paid of heels! My attention now turns to training for the South Downs Way 100 mile ultramarathon in June 2022."
As a training run he came fourth in the challenging Farnham Pilgrim marathon two weeks earlier in 3:27:27, after third placed Nik Darlington in 3:17:49. Other club members who competed were 9th, 15th and 16th ladies Lindsay Bamford in 4:37:04, Emma Dawson 4:59:58 and Kate Townsend in 5:00:04, followed by Ian Calder in 5:05:50.
Two Farnham Runners ran the Brighton Marathon on 12th September. New member Bridget Naylor ran strongly for 4:05:48 for 7th place in her age group, while Stephen Tarrant recorded 4:20 34. Runners got more than they bargained for, as organisers later apologised for the course being almost a third of a mile too long! Stephen Tarrant also ran the Manchester Marathon four weeks later in 4:20:47.