The NOT Grand Prix series finishes, the Alresford 10K and a couple of half marathons
The NOT Grand Prix series comes to an end
Farnham Runners' own virtual series of races that began in December 2020 has now come to an end, with the actual Hampshire Road League races set to resume from September.
The series comprised eleven events in all, including three cross – countries. Competition has been fierce for the five men's and five ladies' trophies to be won and has attracted runners of all standards. A t-shirt will go to all those who have completed six or more events.
Fifteen runners completed all eleven and an average of just over 36 took part in each one, meaning a total of exactly 400 virtual races have been completed, from 5-10 miles in distance.
The series has provided club members much needed motivation to run in the absence of other races. Competitors were out in all weathers and conditions – snow, rain wind as well as, recently, warm and humid, tackling mud, sand and even brambles. A few got a bit lost on their planned route but all survived to tell their tale. They would argue that the total 2,678 miles run were far from virtual!
The clear winners of the series were Nik Darlington and Gabi Hitchcock.
Runner up man was Neil Ambrose, with Nick Hitchcock, Jack Ferguson and James Goodwin third to fifth. For the ladies, Sue Taylor was second, Linda Tyler third, Jane Georghiou fourth and Penny Schnabel fifth.
The first five men in the penultimate NOT Lordshill 10km race were, in order James Clarke, Nik Darlington, Colin Addison, Jack Ferguson and Nick Hitchcock, while the first five ladies were Gabriella Hitchcock, Sue Taylor, Linda Tyler, Lindsay Bamford and Louise Granell.
For the NOT Alresford 10km the first five men were Nik Darlington, Neil Ambrose, Colin Addison, Nick Hitchcock and Terry Copeland and the first five ladies were Gabriella Hitchcock, Sue Taylor, Linda Tyler, Kay Copeland and Clair Bailey.
Alresford 10K
The Alresford 10km, organised by Alresford rotary club was the only race to actually take place but with limited numbers, mainly for those who had entered it last year, club members had the option of submitting the time for this or running their own course for the NOT event.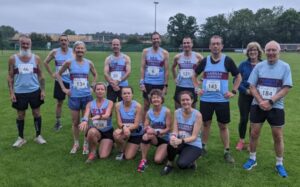 Those who went really enjoyed taking part in this very well organised race. For Covid-19 safety Runners had to spread out before the start, which was chip timed as well as the finish. The course, starting and finishing around a sports field, was along scenic rural lanes. It was surprisingly hilly, with an out and back section that enabled runners to cheer each other along.
There were some excellent results for Farnham Runners, with Neil Ambrose ducking under 40 mins in 39:20 over the hilly route for 15th place.
Terry Copeland and Linda Tyler were both delighted to win their categories and each receive a hamper of goodies for their efforts, while Chris Jackson and Kay Copeland were both second in their age groups.
Needles Half Marathon
Earlier in June, three Farnham Runners travelled to the Isle of Wight to take part in the Needles Half Marathon. Described as one of the toughest and most scenic half marathons in the country, the 13.1 mile route included heathland, downs, coastal paths and historic monuments. The iconic Needles were shrouded in mist and not visible to the runners as they made their way across the beautiful Tennyson Down, but conditions improved as they continued downhill towards the finish back at Freshwater.
New member Joseph Lee described the course as brutal, but finished in 1:37:54, 16th overall male and 8th in the senior male category.
Lindsey Bamford was the first Farnham lady to cross the finish line in 2:02:15, coming 26th overall and 2nd V50 while Linda Tyler, recovering from a knee injury was pleased to finish in 2:18:19, 54th overall and 2nd V60.
This was a well organised, small and friendly race, with brilliant marshals and great support from the community.
North Downs Trail Half Marathon
At the end of June, five members enjoyed the hilly but very scenic North Downs Trail half marathon, partly through the vineyards of the Denbie's wine estate and organised by 2:09 Events.
Clair Bailey commented
"It was lovely getting back to an event. It did feel a little strange when we arrived as there were only 8 cars in the carpark, but fear not – more arrived. There was a casual feel to the morning as people were getting themselves ready to run. The event was capped at 90 runners for the HM and 60 for the 10K. (I was delighted to be in the top 100 on finishing my HM ) I was as a little out of practice for a long run. However running round with my fellow Farnham Runners made the experience much more enjoyable on the tough hilly but beautiful course. It was well marshalled with plenty of water stations which gave us much needed hydration on a very muggy warm morning run. I especially liked the wooden finish medal."
Training along St. Swithun's Way
Regular Farnham Runners training runs on Wednesdays and Sundays have continued, as well as speed sessions on Tuesdays.
Many enjoyed a Sunday run organised by social secretary Clair Bailey, travelling to Alton by train and running the eleven miles back via St. Swithun's Way.