2021 Club Handicap
Local Bourne residents may have been surprised as thirty-eight Farnham Runners donned fancy dress outfits to run in the annual club handicap race. This year, because of Covid concerns, the gathering before and after the race took place outside. As usual there was one trophy to be won and chocolate prizes for the first three back, as well as for the best three fancy dress costumes.
"Mystic Meg" was assisted by her trusty crystal ball in calculating the handicaps for each runner. The difference in handicaps between the first and last runner to set off was over 26 minutes, showing the wide diversity in paces of members of the club. If all goes perfectly to plan all runners should cross the finish line together! This year three exceeded expectations over the 4.25 mile route which is mostly on roads.
An on-form Vicky Goodluck crossed the line over a minute ahead of her nearest rival. She will get to keep the Handicap trophy, which will be engraved with her name, for the next year.
Next in was Amie Jones, who surprised with her performance after a long spell off with an injury.
Rosalind Lankester, who completed the Farnham Runners "Get Me Started" course this year was third after an excellent run.
Then they came in thick and fast. Kate Townsend narrowly missed a prize in fourth, while Paralympic gold medallist in hand-cycling and rowing and now a member of Farnham Runners, Rachel Morris, came in fifth. All in the next minute were Julia Jones, James Goodwin, Catherine Crow, Susan MacKenzie and Deborah Paxford, while Bridget Naylor, Richard Denby, Nik Darlington, Clair Bailey, Louise Granell, Colette Grist, Carol Dare, Sally Kerr, and Keith Marshall finished in the following minute.
The fastest man was Nik Darlington in 25:46 and the fastest lady was Louise Granell in 32:17.
Chairman Jacquie Browne and vice chairman Nicola O'Connor judged the fancy dress, they themselves in fancy dress, Nicola as a scientist and Jacquie as a butterfly.
A great deal of thought and effort had gone in the wide variety of costumes. There were some characters to be avoided such as a very convincing pirate (Colin Addison) and the Incredible Hulk (Sarah Hill) and it was best to steer clear of the Poison Ivy (Sarah Dobinson).
Some sporting personalities were present–an equestrian (Bridget Naylor), a snowboarder (Louise Granell) and one with Olympic flags (Rachel Morris) accompanied by cheerleader (Kate Townsend).
A surgeon (Nik Darlington) was on hand in case of any mishaps. Keith Marshall was a unicorn, Emma Pearson a Whoopee cushion and Vicky Goodluck a singer from ABBA.
A whole team of Pink Ladies from Farnham, sang songs from Grease on the way round, as one put it, "If we can't go to Greece, we can bring Grease to Farnham!" They were Sue Taylor, Linda Tyler, Emma Dawson, Lina Haines, Tori Shaw and Rebecca Martin, along with Colette Grist.
There were lots of fairies, a Flower Power lady from the 1960s (Carol Dare), Santa himself (Ivan Chunnett) along with an elf (James Goodwin), while Richard Denby modelled his best Christmas suit.
A Pharaoh (Susan MacKenzie), a Hawaiian (Nick Grist) and a Where's Wally persona (Clair Bailey) were all present.
Fred Flintstone (Howard Inns) strangely seemed to ditch his large bare feet and was spotted in a pair of trainers for the run.
The judges had a very difficult task! New member Keith Towndrow in his first race since joining Farnham Runners was awarded third place. Dressed with a large headdress of a present he bravely ran all the way with this encumbrance, not conducive to speed! The Sauce girls, Carolyn Wickham and newcomer Catherine Crow tried, as they put it, "to ketch up" the other runners for joint second prize. But pride of place went to Damian Probett as Mr Motivator who put in a stunning appearance – just who was needed for such an event, in his tight pink lycra all-in-one exercise suit. It was his diamanté belt that sealed the deal for the judges.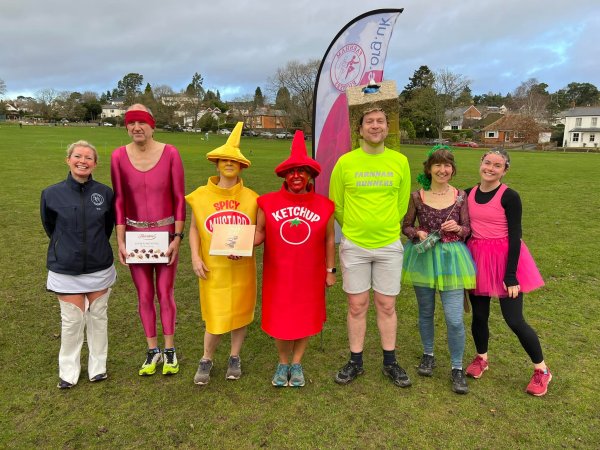 Club chairman Jacquie Browne presented the prizes and thanked all who had helped, not least the club's race director, Craig Tate-Grimes who had earlier that morning put up the signs along the course and later took them all down, ladies' captain Jane Georghiou aka Mystic Meg who set all the handicaps and social secretary Clair Bailey who provided the mulled wine and mince pies.
Mike Carter and Steve Payne were also thanked for their excellent marshalling and time keeping.
Photos from the Club Handicap – click on the gallery to browse: