Not a grizzly face in sight
At the beginning of March, nine Farnham Runners travelled down to Seaton in Devon for the 34th running of the famous Grizzly race organised by Axe Valley Runners. Entry is by ballot and the team were delighted to gain their place in this much sought-after event.
On a sunny but cold, blustery day,1800 runners lined up at the start, waiting for five-time Olympian and European champion Jo Pavey to get the race underway, with a certain amount of in trepidation at the thought of the very challenging multi-terrain 20-mile race that lay ahead.
The first mile along a shingle beach into the cold northerly wind was a particularly brutal start to any race and the noise was deafening.
Past cheering crowds as they ran back along the Esplanade, the runners then went off up Castle Hill to the sounds of drummers and into the picturesque village of Beer.
Then it was up Beer Head and out towards Branscombe and the most challenging parts of the course – endless hills, knee deep bogs, fields at uneven cambers and icy-cold rivers to negotiate – before returning to the pebbles of Branscombe, a near vertical cliff climb and then the welcome return journey to Seaton.
All the way along the scenic course, runners were cheered on by hundreds of spectators and kept safe by the wonderful marshals from local communities. A special Grizzly beer was provided for the final push to the end and once across the finish line, runners were rewarded with flapjacks, a Grizzly rum and a hose down by the local fire brigade!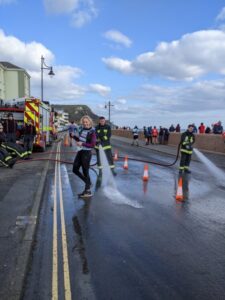 Lou said:
"The route was tough and technical but mostly enjoyable. Numerous respite periods walking the hills gave runners the chance to admire the stunning views over the cliff tops and spot various villages that the route passed through."
Sue added:
"There was support throughout from fabulous marshals and numerous bands of various types."
Kate was delighted to take part and said:
"Such an iconic race with amazing support from the locals. It doesn't get better than that."
24th female overall and first to finish for Farnham was Lou Granell (below) in the amazing time of 03:28:14.
Justin Clarke wanted to finish in under 4 hours and was delighted to cross the line in 03:41:59. Andrew Brown was next in 04:20:25. The rest of the team stayed together for the most of the race, encouraging one another and being motivated by super support from the marshals and crowds: Emma Dawson, Lina Haines, Bridget Naylor, Sue Taylor and Linda Tyler finished together in 04:29:24 and shortly after them came Clair Bailey and Kate Townsend in 04:33:00.
Congratulations to Lina and Clair for completing their longest run ever – both are now being encouraged by fellow club members to enter their first marathon!
Shortly after crossing the finish line, whilst congratulating each other, a couple of onlookers started waving and calling us – they seemed very keen to gain our attention and when we all looked in their direction, they took a photograph of us, still waving and smiling. Linda said:
"We were a little bemused, but a couple of days after our return to Farnham, our chairman received a letter from them saying that they'd heard the announcement of "Farnham Ladies" over the tannoy – their daughter lives in Frensham, so their ears had pricked up. They were "pleased to find us looking happy and smiling, not a groan or aching joint in evidence" while "many looked exhausted".
They went on to congratulate the trainer, adding that he must have done a wonderful job! We don't have the heart to tell them our lovely trainer for the event is called Kate!
Over the years, the Grizzly has raised thousands of pounds for local, national and international charities and good causes. It's easy to see why it is so well loved by the runners and locals alike.