HRRL Overton 5m, HRRL Victory 5, TRXCL Pamber Forest, British Masters and European Veterans Track and Field Championships and Marathon Des Ecluses
The new season of racing kicked off for Farnham Runners with two Hampshire Road League (HRRL) races, followed by the first of the Today's Runner Winter League cross-countries (TRXCL).
Both men and ladies teams are in the top divisions of the road league this year, and hope to stay there. The local club also hopes to defend its Today's Runner title. The road series consists of twelve races and any nine races count for the men and any eight for the ladies.
HRRL – Overton 5m
A sizzling day added to the challenge of the first event, the undulating five-miler at Overton. Leading the Farnham contingent as last year, Ian Carley improved on his time and position of 2011 to finish in an excellent time of excellent 29 minutes 12 seconds for 21st place and 4th in the M40 category. Mike Anderson was a fine 3rd in the M55s with 31-54 with Mike Ashworth (33-15) just getting the better of Mike Walberton (33-17). This A team came 7th of 10 in Division One. Suffering in the heat Martin Billett (34-26) still clung on to head an in complete B team of Stuart Morel (34-31) and Chris Cramp (36-06).
A gutsy run by Lucy Enstock for 38-03 gave her a third place in the F35 category but no other Farnham ladies turned up to support the team.
HRRL – Victory 5m
In the Victory Five miler the Farnham men claimed another 7th place in the top flight but moved up to 6th on aggregate. The ladies entered a full A team that was 6th, giving 9th on aggregate. There were a number of high category placings and some personal best times.
This time it was Andrew Ellison who led them in, his time of 29-00 placing him 3rd in his category. Mike Anderson was 2nd M55 with 30-33, while newcomer Craig O'Neill impressed with 30-58. Mike Smith, 6th M50 with 32-02 completed the A team. Mike Walberton was 8th in this category (32-22) and Martin Billett 11th (32-38, PB), Stuart Morel (33-21) and Chris Cramp (34-56) completed the B team (10th, aggregate 11th) but here was no C team.
Gabi Hitchcock used the distance to sharpen up before an autumn marathon and came an excellent 17th lady in 33-14. Jane Georghiou won her new category in 34-51 to go top of the British rankings for her age group for the year so far for this distance. Lucy Enstock made a very useful contribution to the team result in 37-58, followed by Karen Smith on her debut in 49-44.
TRXCL – Pamber Forest
Basingstoke and Midhants A.C. hosted the first Today's Runner Winter League cross-country on woodland trails through Pamber Forest. Relatively low on mud and hills, first-timers had a gentle introduction and an excellent hot-dog and cake lunch put on by the hosts as reward for their efforts. Evergreen Mike Anderson led them in with a fine 21st place followed by long-standing member Charles Ashby in 27th. Chairman Steve Kitney, (36th), Bob Brimicombe (46th) and Nick Hill (71st) were the other scorers, backed up by Phil Masters (108th), Stash Hutten (119th), Hillary Carter (139th) and Craig Tate-Grimes, 146th on his debut.
For the ladies Jane Georghiou was 12th, followed by Lindsay Bamford, reliable as ever in 19th. Eloise Stradling made an excellent debut and showed her potential in 33rd to complete the scoring. Christy Roxburgh followed in 39th with newcomer Sarah Saunders not far behind in 43rd. Tori Shaw (54th), Nina Muir (61st), Abigail Ashby (66th) Beccy Martin (69th) Emma Dawson (78th, debut), Jacquie Ashley-Collins (80th, debut) and Elaine Ashby (84th) also gave valuable support to the team.
The men claimed 5th and the ladies 4th to give an overall placing of 3rd, a solid start to the season.
British Masters' and European Veterans' Track and Field Championships
In Farnham colours, Jane Georghiou gained the British Masters' 10,000m track championships title for her age group in August at Oxford.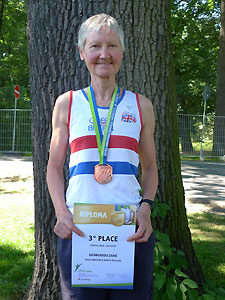 She then travelled to the European Veterans' Track and Field Championships held in Germany, Poland and the Czech Republic to represent Great Britain, and, in conditions already warm despite the 8am start, won a bronze medal for the above distance. A few days later, though second till the last lap, she finished 4th in her category for the 5,000m.
Marathon Des Ecluses
Gabriella Hitchcock ran the in the Marathon Des Ecluses in north west France in a superb time of 3-28-51 taking nine minutes from her personal best. She was delighted to find she was third lady and on the podium, presented with flowers, a trophy and a prize.