Alton 10, Shakespeare Marathon, Neolithic Marathon, Bushey Park Time Trials and Headley Fun Run
Alton 10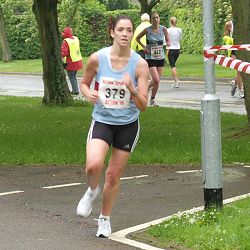 Despite pouring rain, a huge turn out of thirty-two Farnham Runners swelled the numbers at the Hampshire Road League Alton Ten mile race on Sunday, making up one tenth of the finishers. All standards of runner were represented with the fastest contributing to the excellent team results of second in both men's and ladies' sections. Sarah Edson took the first senior lady prize and county championship medal while Steve Murphy gained a county medal for second place in the M45 category. Many showed improvement by recording personal best times though the hilly nature of the course make this difficult.
Michael Rix (photo above) looked back on form with a superb time of 1 hour and 53 seconds and eighth place of the 235 men. Dan Smith and Charles Ashby appeared to have recovered already from the London marathon with impressive times of 1.02.08 (12th) and 1.04.20 (17th, 8th M40) respectively. Steve Kitney, who only two weeks previously had completed the Shakespeare marathon, flew round for a personal best by three minutes (1.05.16, 22nd) to complete the first Farnham team.
Bob Brimicombe, in training for a series of adventure races, took a huge chunk from his previous best for 1.06.19 (27th). Steve Gillingham (1.07.26, PB), Colin Addison (1.08.45) and Steve Murphy (1.09.21) all posted good times to give the Farnham club 5th place for their second team. Andy Tweed (1.09.45), Mike Ashworth (1.10.03), Alan Froud (1.12.13, PB) and Nick Hitchcock (1.14.03, a PB by four minutes) all ran well to make up a third team that placed 9th.
Other men's results: Dave Armstrong 1.14.23, Simon Clyde 1.15.03, Don Melvin 1.16.56, Tim Cummins 1.19.35, Steve Payne 1.20.24, Howard Inns 1.21.26, Stuart Edgoose (photo above) 1.31.26, Don Wakefield 1.45.59.
Sarah Edson was 3rd lady overall and first senior lady after a superb run for 1.09.43. Angela Epps was 6th lady veteran crossing the line in 1.15.39, while Samantha Pelham (photo above) with 1.17.59 took third slot in this runners up team. Lindsay Bamford (1.18.19), Gabriella Hitchcock (1.19.44) and Susan Creasey (1.22.07) made the sixth team. Kim Mepsted 1.25.08, Suzanna Ching 1.29.17, Sally Lawrence 1.30.23, Caroline Freeman 1.30.27, Nathalie Garrison 1.38.50 and Helen Scullard 1.40.22 all provided valuable back-up.
Shakespeare Marathon
Four members enjoyed the Stratford Shakespeare marathon. First home was Steve Kitney in a fine 3.11.20, an improvement by 18 ½ minutes on his first attempt at the distance last year. Colin Goody was pleased to get well under 4 hours in his first marathon (3.55.53) while Don Melvin had to be content with 4.06.34. Suzanna Ching took a huge chunk from her first marathon time for 4.11.58.
Neolithic Marathon
Nicolette Overy ran the challenging off road Neolithic marathon in a very impressive time of 4.03.09 (8th W45).
Bushey Park 5 km time trials
Mike Anderson continues to shine at the Saturday morning Bushey Park 5 km time trials. He heads the all time list of M50s with a recent 17 minutes 30 seconds, a club 5 km record for this age category.
Headley Fun Run
A contingent of Farnham Runners came away with a haul of prizes from the Headley fun run. Stuart Morgan was second, Sarah Edson first lady, Jo Edson 2nd veteran lady and Lindsay Bamford 3rd.