2011 Alice Holt Forest Races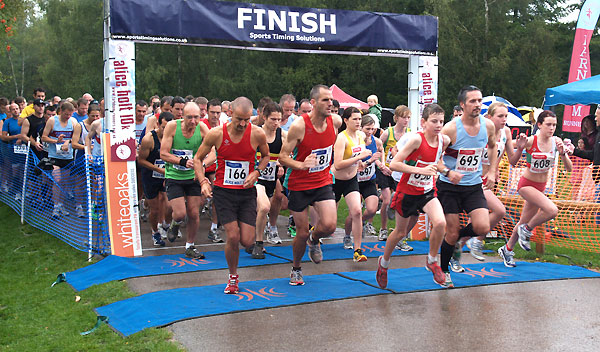 A couple of short sharp showers did not dispel the enthusiasm for the now traditional full set of races in Alice Holt Forest, organised by Farnham Runners. Although the event switched to a Saturday this year to avoid a clash with National Forest Day, the total numbers of entrants was slightly up on last year with a significant increase in the junior races' numbers, perhaps showing one reason why Waverley is reported to have the lowest rate of childhood obesity in the country!*
Andrew Ellison took over the challenging position of race directorship, as former director Charles Ashby stepped down for a year, though he remained in a supporting role. A strong committee also helped to ensure the day met the previous high standards; in addition a large number of members, families and friends provided essential assistance.
The races could not be staged without the support of local sponsors. Whiteoaks consultancy backed the 1km and 3km races for youngsters from 5 to 12 while Andrew Lodge estate agents supported the 5km and 10km races. The managing director of Whiteoaks, James Kelliher and Andrew Lodge kindly presented the prizes for their sponsored events. Alton Sports, East Street cycles and Kallkwik were also well-appreciated sponsors. The Royal Oak in Wrecclesham donated vouchers for the winning man and lady.
The Mayor of Farnham was in attendance and started the main races, warning participants of hazards they could encounter along the way. She stayed to add gravitas to the prizegiving ceremonies.
This year finishers were given an instant print out of their result as well as seeing it up on a screen. Once the main races and prizegiving were over the under fives, a few only one year old, had their turn. Sporting numbers just like the grown-ups, these athletes of the future dashed 60 metres for a suitable reward.
Even for the many of the adults it provided a first experience of racing, including an "Absolute Beginners" group of Farnham Runners who have been training hard over the summer with the club's qualified leaders. The 5km was their goal and they are now ready to join in with the usual club training runs.
Many more experienced Farnham Runners featured on the podium, taking three of the individual prizes as well as both male and female team awards for the 10km and providing the winner in the senior section of the 5km.
A well-known name in running circles Julian Manning repeated his victory of last year to take the honours in the 10km race in a superb time of 34 minutes 27 seconds. A team mate from Denmead Striders, Nick Baker was not far adrift in 35-13 to take the M40 title, while third to cross the line was Farnham's own Ian Carley (36-39, 2nd M40). Chris Ness (38-22) of Walton AC was third in this category. The winning men's team comprised Ian Carley, Charles Ashby, Jason East and Steve Kitney, with Liss Runners 2nd and Haslemere Border AC 3rd.
Laura Bartlett of Guildford and Godalming AC won the ladies race in 41-57, while a new member of Farnham Runners, Sandra Norwood came 2nd in 43-11, with Cheryl Foot of Chineham Park Running Club 3rd (43-35). Cheryl also took the first F35 place, ahead of Helen Purchase (45-03) from Liss Runners and Clair Maskery (46-02).
The victorious team of four included Sandra Norwood, fellow new member Holly Daly, Wendy Carley and Emma Drinkwater. Chineham Park Running Club and Haslemere Border AC were 2nd and 3rd.
As usual some talented juniors took part in the 5km. Mathew Arnold of Aldershot, Farnham and District AC was first home in an incredible 17-23 with Nathan Mapperly (20-50, Camberley and District AC) and James Cahill (23-58) 2nd and 3rd juniors.
Fourth overall in the race came Gemma Wildash in 19-58 just ahead of Molly Pocock (20-00) and Molly Sharples (22-54) both from AFD.
Flying the flag for Farnham Runners was the indefatigable Michael Rix who took the honours for the seniors with a time of 17-59 after coming second in the 5km Frimley Lodge parkrun earlier that morning and a long training run the previous day. Nick Jacobs of AFD (19-07) and Russell Peacock (20-49) were 2nd and 3rd seniors.
First senior lady was Louisa Vere of Thames Turbo in 20-40, her second win of the day as she had also won the Frimley Lodge 5k time trial that morning. She was followed by Cathy Stewart (22-09, AFD) and Yvonne Grayson (23.10, Liss Runners).
Names to look out for in the future are the winners of the 1 and 3km events:
1KM (5-8 year olds)
1st girl Millie Garewal
2nd girl Poppy Walters (Horsell Junior School)
3rd girl Natasha Hall (South Farnham School)
1st boy Jed Blacknell
2nd boy Frederick Newbould
3rd boy Carrick Binfield
3KM (9-12 year olds)
1st girl Lucy Wildash (Basingstoke and Midhants AC)
2nd girl Hannah Jacobs (AFD)
3rd girl Sophie Poole
1st boy Sean Pocknee (AFD)
2nd boy Sam McCready (AFD)
3rd boy Sean Summers
Veteran 10km Winners
M50 Steve Low (Blackwater Valley Runners)
M60 Steve Linton
M70 Brian Bennett (Runnymede Runners)
F45 Helen Gilliatt
F55 Shirley Perrett (Farnham Runners)
* Department of Health, Health profiles data, as reported in Sunday Times.