Donation to Disability Challengers from Alice Holt Races fund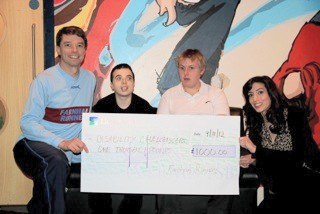 Although Farnham Runners do not aim to make a profit from the staging of the Alice Holt races, the popularity of the event resulted in more runners than ever this year which resulted in a surplus. Race director Andrew Ellison was pleased to be able to donate a cheque for £1000 to Lucy Sharma, community fundraising manager for Disability Challengers in Farnham.
In addition to this £1000, the club also donated money to Great Ormond Street Hospital, on behalf of Frensham Heights, and the Scouts, after both groups helped out at the event.
The first photo shows Andrew Ellison presenting the cheque to Lucy Sharma and the second also has some of the young people from the centre in it. Disability Challengers provides fun and challenging activities for disabled children and young people in and around Farnham.
Disability Challengers' web page that gives a little more information about them