TRXCL Farnham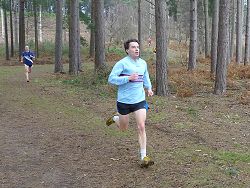 By 1.30 pm on Sunday 9th December the Bourne Green pavilion was calm and peaceful again with no sign that it had been the hub of activity for the Today's Runner Winter League cross-country series hosted by Farnham Runners.
A record of 313 runners from 20 different clubs converged on Farnham to run this third round of the series, and most needed feeding afterwards.
Meticulous planning and work by race director Charles Ashby and social secretary Christy Roxburgh meant every thing went like clockwork on the day. Many members past and present, generously gave their time to help. A team had carefully marked out the 4.8 mile route the previous day. Another team started at 8am to stake the finishing funnel, put up tents and gazebos etc while a third made piles of sandwiches. An ample supply of cakes, most home-made, suddenly appeared from members. There was even time to relax before it was time for the marshals to be given their instructions and the runners to warm up and make their way to the start.
Charles Ashby outlined the good and bad points to the assembled runners: no ice this year, just lots of mud! Then the hooter sounded and off they went! No-one got lost and just three minor incidents were expertly dealt with by volunteer first aider, member Pam Carr-Barnes.
After the race the tea and coffee making facilities were soon working at full capacity and long queues built up for the food tent, plates piled high emerging the other end. Would the food last? How could there possibly be enough for that many? Amazingly by the end there was still a number of sandwiches and cakes left, so all was well.
Charles Ashby worked out and announced the team results and thanked all who had contributed. A worthy band stayed to collect the signs and clear up the clubhouse so it was as if nothing had happened.
Though this league is all about fun and elite runners are excluded the pace is fast and furious at the front.
Farnham Runners' Andrew Ellison mixed with the best to place third after Alex Hamilton form Basingstoke and Midhants A.C. and James Sawyer of Stubbington Green Runners. The first three ladies were Lesley Locks (Hart Road Runners), Hannah Wilson (Portsmouth Triathlon Club) and Helen Nicholls (Stubbington Green Runners).
Winners three times in the past four years, Farnham Runners lie fourth in the series this season after three races. The men's team came 3rd and ladies fifth on the day. After Andrew Ellison, the man packed in: Ian Carley 20th, Charles Ashby 30th, Mike Anderson 33rd and Alistair Blowers 37th made the team, with Bob Brimicombe (39th) and Charlie Hill-Venning (42nd) not far back.
Gabi Hitchcock led in the Farnham ladies in an excellent fifth place. Jane Georghiou in 25th took the downhills gingerly after a slight ankle injury while recent winner of the new Alice Holt parkrun, Lindsay Bamford was close, in 27th, as final scorer. Debutant Kayleigh Copeland showed great potential on her heels (28th) followed by her mother Kay (33rd).
Other Farnham placings
Men: Nick Hitchcock 58, Steve Kitney 74, Martin Billett 75, Mike Taylor 79, Scott Salmon 81, Russell Wheeler 89, Steve Murphy 90, Richard Frost 93, Steve Parker 105, Chris Cramp 114, Alistair Wilson 121, Terry Copeland 127, Neil Powers 132, John Hill-Venning 134, Simon Brander 145, Robin Baker 155, Phil Masters 159, Craig Tate-Grimes 168, Steve Whatley 190, Peter Strange 1196, Bruce Peto 202.
Ladies: Christy Roxburgh 39, Eloise Stradling 48, Beccy Martin 53, Jacqueline Ashley-Collins 60, Tori Shaw 65, Sue Goater 70, Leonie Elders 80 (deb).