SCXL Farnham (Bourne Woods)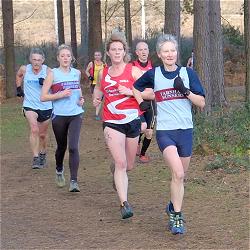 A record number of runners descended on the Bourne Green for the third round of the Southern Cross Country League series, organised by Farnham Runners. They started assembling early and most stayed afterwards for the very well deserved refreshments.
Helped by a good number of members over the weekend, race director Charles Ashby laid out the course the previous day and made sure everything ran smoothly, with marshals and signs ensuring no one could get lost. The team results were calculated in good time and the signs collected after the race. He changed the course slightly this year to avoid congestion at the start: the new start was flat and wide so he warned "This is not a 100metre race!" Excellent conditions meant there was no mud this year but the challenge of the steep hills remained.
Social secretary Christy Roxburgh did an excellent job of masterminding the considerable task of catering for the ever-increasing numbers after the race.
There were 389 finishers – 74 more than the previous record last year. Although there is a cut off point in this league so elite runners are excluded, the competition at the front seemed to be keener than ever. But the teams cheered on their competitors to the end, a characteristic of this friendly league.
Three time winners, Farnham Runners are performing well this year, comfortably in the top 4 clubs of the 21 in the league on aggregate and taking fourth overall on the day. Their men were an excellent third behind winners Basingstoke and Midhants AC and runners-up Hart Road Runners. The ladies were 4th after Haslemere Border AC (1st), Basingstoke and Midhants AC (2nd) and Hart Road Runners (3rd).
Tom McSwayne from Stubbington Green Runners won the race with 2nd and third places both going to Havant AC runners, Matt Gordon and Lian Rickelsford respectively. In the ladies section local runners were to the fore: Hart Road Runner Hannah Lord was first with 2nd and 3rd places going to Jackie Field and Katy Ward of Haslemere Border AC.
First back for Farnham was Andrew Ellison who paced well and moved steadily through the pack for a fine 13th place. Stronger with every race, Richard Lovejoy came 19th. Newcomer Matthew Brown (22nd) led the race for the first half mile but was gradually reigned in, though he pipped reliable team member Ian Carley (23rd) to the line with a sprint finish. Charles Ashby (35th), who jumped into the fray after making the necessary safety announcements at the start, was the fifth scorer.
Rob Gilchrist impressed with 48th while Colin Addison (63rd) Tim Cummins (69th), Stuart Williamson (70th), Ian Marshall (81st), Steve Kitney (85th) and Mike Ashworth (87th) all provided valuable back up.
Vicki Sadler began to be convinced of her potential with a splendid 10th place, while Charlotte Hanson ran strongly for 22nd. Jane Georghiou scraped into the scoring team (31st) just ahead of the improving Kayleigh Copeland (33rd). Jo Edson (36th) was hard on her heels and Sue Taylor (43rd) and Lindsay Bamford (47th) were not far behind, all with very creditable results in a competitive field of 143 ladies.
Other results
Men: Mike Walberton 100, Neil Ambrose 101, Matt Burns 105, Mark Beresford 107, Will Paskell 120, Terry Copeland 122, Chris Cramp 124, David Armstrong 126, Ian George 156, Simon Brander 165, Chris Beattie 170, John Phillips 183, Craig Tate-Grimes 184, Terry Steadman 204, Richard Sheppard (sweeper) 246.
Ladies: Tori Shaw 58th, Kay Copland 72nd, Emma Drinkwater 74th, Lina Haines 80th, Becky Martin 94th, Sally Lawrence 103rd, Elaine Ashby 135th, Angela Beattie 142nd, Debbie Mitchell 143rd.