2019 Annual Awards Dinner
A highlight in the Farnham Runners' calendar is the Annual Awards Dinner to celebrate the club's and individual achievements over the past twelve months, including being one of the local clubs "highly commended" at the Farnham Sports Awards 2018, as in 2017. Over 70 members and their partners gathered at the Village Hotel, Farnborough.
A raffle raised £300 for Oakleaf Enterprise, a local mental health charity and was generously supported by local businesses including The Fox (in the Bourne), the Bengal lounge restaurant, Bill's, Mooey's, Alton Sports and ABS vehicle engineers. The Village Hotel donated a proportion of the bar takings, raising the total to almost £400.
Richard Sheppard again excelled in the important role as MC, with chairman Jacquie Browne presenting the many trophies.
The prestigious Steve Parker Award for the person who has done most for the club during 2018 went to Helen Bracey.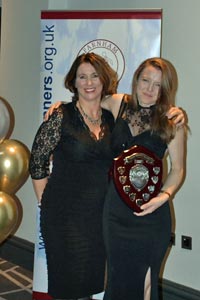 Announcing the award Jacquie Browne explained:
"This award is for someone who sits below the radar but when asked, never lets anyone down. We are so blessed in this club to have some completely unselfish volunteers. This person has these qualities and anyone who knows her will have had their life made better in at least one way.

She first joined the committee as Club Secretary which she embraced with dedication and enthusiasm. She then took over the management of the beginners group and together with Craig Tate-Grimes, Jacquie Browne Linda Tyler, Lindsay Bamford and Anne Snelson put together a new program ("Get me Started") and ran it twice last year with great success."
The Chairman's Award went to Craig tate-Grimes.
Jacquie continued:
"The person I would like to give the Chairman's Award to is Craig Tate-Grimes – our Race Director, who is hard working, dedicated, and always looking for new ideas to push the club forward.. I'm sure you know how hard he works for the club both in the foreground and behind the scenes but I hope you appreciate the commitment and dedication he puts into everything he does for us. I know that I can rely on him 100% which, to me, is hugely re-assuring.

He is responsible for the Alice Holt races in September and the Southern cross-country league race in December, as well as our club championships in June. He has now taken over as one of the organisers of the Alice Holt Park Run.

This is a huge feat of co-ordination, and I know he takes days off work to ensure everything is in place for each event – and even tonight he is responsible for getting together all these amazing trophies which involves both the purchasing and engraving of them all."
The unique "Smiley Award" went to a most deserving Michael Stephens.
"This person had to take a break from running– but despite this he has come along and supported us at events as a spectator and smiled his way through cheering us across the finish line.

I am pleased to say this person is running again and we would like to thank you for your cheery support."
Huge congratulations went to Linda Tyler on winning the Farnham Sports Council's Senior Volunteer Award, while Kathy Brown had picked up Mayor of Farnham's Outstanding Contribution to Sport Award. James Clarke was the runner up Sports Personality of the Year.
Sarah Hill won the Ladies' Marathon Trophy for the eighth consecutive time for her 2:55:39 in the Bournemouth marathon. Her time gave her 4th place in her age category UK table for 2018 and was the best overall Farnham Runners time for the year. Stuart Haig took the men's Paul Charlton Memorial Trophy for his personal best of 2:56:11 in Abingdon.
David Boakes Wilkinson was the surprised winner of The Herbie Memorial Trophy for improvement (by over six minutes) in the Alice Holt 10km between 2017 and 2018, while Jackie Wilkinson, an Absolute Beginner from 2016, took the equivalent female award, the Prince Trophy for the second time after making another huge improvement by almost nine minutes.
The Handicap Trophy went to newcomer to the club, Paul Tucker.
The club's Grand Prix winners were:
Men: 1.James Clarke, 2.Andrew Ellison, 3.Harvey Wickham, 4.Matt Saker, 5.Ali Hardaway.
Ladies: 1.Eloise Stradling, 2.Linda Tyler, 3.Anne Snelson, 4.Jane Georghiou, 5.Emma Russ.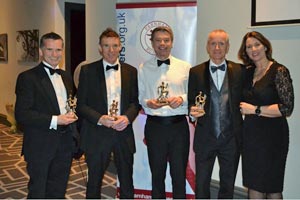 Men's road captain John Phillips presented the trophies to members who achieved the most personal bests in Hampshire Road League races. They were:
Men: Matt Saker, Damian Probett, Steve Bailey
Ladies: Clair Bailey, Susan MacKenzie, Jackie Wilkinson, Helen Bracey
Greatly prized mugs with all the winners' names, awarded by the Hampshire Road League, were presented to
16th James Clarke
18th Andrew Ellison
28th Matt Saker
63rd Harvey Wickham
83rd Ali Hardaway
105th Keith Marshall
106th John Phillips
27th Emma Russ
28th Eloise Stradling
42nd Anne Snelson
45th Jane Georghiou
Eloise Stradling, Clair Bailey, Lindsay Bamford, Jane Georghiou Stuart Haig, Damian Probett and Tim Cummins who did all six Southern Cross-Country League races during 2018 received special T shirts.
A bouquet of Flowers was given to each of the following:
Jacquie Browne – Chairman, finally getting the new Farnham Runners clothing available and organiser of tonight's event
Jane Georghiou – in recognition of all she does as ladies team captain, record keeper and press officer
Clair Bailey – for organising the raffle and in recognition of all her initiatives to date since she has taken over as social secretary
Carolyn Wickham – for helping with the Co-ordination and organisation for tonight's Awards Dinner
Further thanks went to all the committee, David Georghiou (webmaster) and to Pauline Hamilton for the photography on the night, as well as Anne Snelson – for her initiative with Mental Health Awareness,
Anne is Farnham Runners' mental health ambassador and organises monthly RUN AND TALK sessions for the club on behalf of England Athletics and supported by MIND, the mental health charity. Farnham Runners fully support this initiative where the underlying goals are to:
Get people talking about mental health, sharing their experiences and removing stigma.
Provide support and guidance to raise awareness of mental health problems.
Support people experiencing mental health problems to be physically active through running, whether that is to support them in starting, returning to or continuing to run.
After the presentations, dancing to a local DJ went on till the early hours.
Gallery (click to browse individual photos):