2019 Club Championship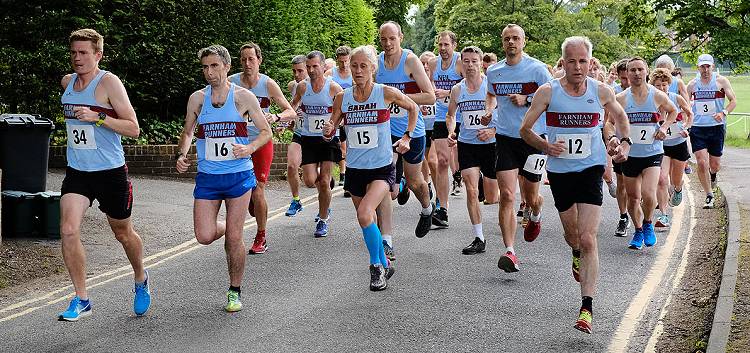 Forty – six Farnham Runners completed the Club Championship which has been run on the same course since it began in 1991. It is a challenging, hilly route, mostly on roads but with a detour into the woods before a final road section and a sprint across the Bourne Green. Conditions were good, quite warm but with a cooling breeze.
Race director Craig Tate-Grimes had organised many members and friends to take on the necessary roles required, including setting up the course, marshalling and time keeping. Kathy Brown masterminded the recording of the results.
There were 10 age category trophies to be won as well as special awards for the first man and first lady.
In the senior category, James Clarke had no trouble retaining his title in 36 minutes 40 seconds, a minute quicker than last year.
Ultra-distance runner James Warren showed he can also put in a speedy performance in a shorter race, finishing as first M40 in 38:06. Just seconds back was second M40, Matt Morgan in 38:19, with first lady Sarah Hill on his heels in 38:32. She also won the F45 shield. Charlie Hill-Venning was third M40 in 38:58 and David Roy second senior in 39:11.
M50 record holder Andrew Ellison retained his title and was next in 39:45, with Charles Ashby second M50 in 41:12. Kayleigh Copeland won the senior ladies in 44:22, with first M60 just 2 seconds back in 44:24.
Susie Chan was a comfortable winner of the F35s in 44:54, followed by second F45, Emma Pearson in 45:02 and second senior lady, Louise Grannell in 45:10. Delighted to win again after missing out last year due to fractured wrist and although fighting off a cold, Linda Tyler was first F55 in 50:09 and Jane Georghiou, running her 25th consecutive club championship was the only F65 competitor in 51:03, followed by second F55, Kay Copeland, in 52:547.
Philip Masters (58:46) was delighted to get his name on the M70 trophy for 2019.


Other times: Harvey Wickham 40:01, Stephen Elliott-Nicholls 40:14 (3rd senior man), Stuart Haig 41:26, John Hill-Venning 41:38, Tim Cummins 41:58, Neil Ambrose 42:17, Phil Hames 42:29, Ali Hardaway 42:35 (3rd M50), Steve Bailey 44:06, Damian Probett 45:01, Justin Clark 46:44, Sarah McCulloch 47:06 (3rd F45), Emma Russ 48:41 (3rd senior lady), Stephen Tarrant 49:53, Lindsay Bamford 51:31, Kate Townsend 52:33, Sue Taylor 52:58 (2nd F35), Clive Frostick 54:53, Vicky Goodluck 57:55, Howard Inns 58:15 (2nd M60), Amanda Muir 59:20, Pauline Hamilton 1:00:13 (3rd F35), Tina Harrison 1:00:53, Jane Probett 1:02:21, Robert Drummond 1:02:53 (2nd M70), Gulfer Budden 1:05:15, John de Moraes 1:05:28 (3rd M70), Julia Tagg 1:05:36 (3rd F55), Bruce Peto 1:09:19.
This year's "Get Me Started" course participants, along with a couple from previous years, ran a 5km course arranged by Anne Snelson and other "Leaders in Running Fitness". They were Marisa Luttrell, Bev Taylor, Anna Samuel Kate Parry-Shield, Sandra Whelan, Alison Mungall, Angie Brown and Renee Devereux.
Helen Bracey, Farnham Runners 'Get Me Started' programme coordinator, presented awards to Marisa for winning the 5km club championships, Bev for having the fastest Alice Holt parkrun time during the course, Carol Dare for improving the most over the Alice Holt parkrun course and Angie Brown for having 100% attendance. Renee won the Most Tenacious Runner award for her attitude and determination while Kate Snelson got a "Thank you" prize for her support of the runners throughout the course and Carol Dare was presented with a "Boomerang Award" because she just keeps coming back to the beginners' course.
Although the eight week 'Get Me Started' course is now finished, the participants are all looking forward to future club runs and events and some are now progressing towards a 10km goal.
The evening concluded with a paella organised by social secretary Clair Bailey and the presentation of the awards by race director Craig Tate-Grimes. The club's Smiley Award went to Vicky Goodluck for her continually cheery smile.
Gallery (click to browse individual photos):