2020 Virtual Vitality London 10,000m
In May 2019, five Farnham Runners travelled early one morning to help with the Vitality London 10,000m race that attracted thousands of entrants.
Sadly of course this year, the event could not happen.
Organisers instead devised a virtual Vitality 10,000m, stating on their website,
"so participants of all abilities could enjoy the physical and mental health benefits of regular exercise in a fun and inclusive event – rather than focusing on speed or times. We hope you enjoy running for your head and your heart at the virtual Vitality London 10,000 and have an amazing time wherever you are – good luck!"
A number of Farnham Runners took part, over a variety of courses. They included Neil Ambrose, Clair Bailey, Steve Bailey, Jacquie Browne, Peter Callow, Jane Georghiou, Nicola Hames, Mark Maxwell, Jane Probett, Penny Schnabel, Becky Starbuck, Craig Tate-Grimes, Linda Tyler and Jackie Wilkinson.
Most chose one of the club's organised runs at the Devil's Punchbowl on a Sunday before Lockdown 2. They followed the ROAM 639 trail which includes steep gradients, and uneven paths. Heavy rain overnight continued for the start of the run making the route even more challenging. But the sun soon came out, and unlike in a real race, runners could stop to enjoy the scenic views. The group leaders were Clair Bailey, Jacquie Browne and Ali Hardaway, who had reconnoitred the route a few days earlier.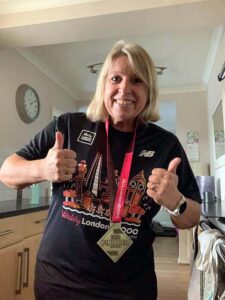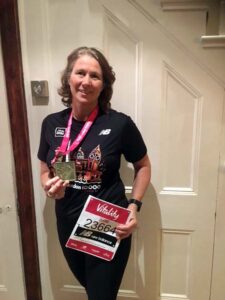 In addition some of the runners devised their own courses, while others like Carolyn Wickham (pictured) used the 2020 club championship with its Covid-19 secure staggered start as her 10km run. A finisher in the 2019 London marathon she commented on this:
"Sadly it definitely wasn't the same as a mass participant event! I ran solo pretty much the entire way and missed the supporters en route."
All participants received an impressive Vitality 10km medal and T shirt as a reward for their efforts.
Chairman Jacquie Browne (pictured) commented;
"I fully supported this event as running has never been about speed for me, it has always been about getting out, exercising with friends and enjoying the camaraderie that it all provides. Thank you fellow Farnham Runners for being such great sports and keeping the spirit of running going during these difficult times."