Woodland Woggle
Eight Farnham Runners took part in the Woodland Woggle, organised by Blackwater Valley Runners according to strict Covid-19 secure guide lines and with a staggered start.
On a chilly day, they enjoyed the scenic, hilly route and really appreciated the marshals who stood in the cold for hours.
First back for Farnham was Damian Probett in 53:30, 7th M50, followed by Geoff Brown in 56:51.
Catherine Timson was first Farnham Runners lady in 57:47, 4th in the F40 category, while next, Robert Drummond was 5th M60 in 1:11:48.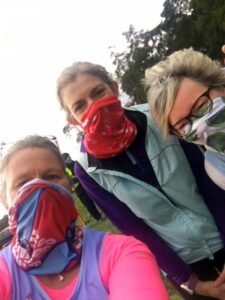 All enjoyed the challenge of the course: Jane Probett recorded 1:11:58, Kathy Brown 1:14 04 and Farnham Runners' chairman, Jacquie Browne 1:18:51, who commented after the race:
"Brilliant – loved it – a fabulous event. Well done all those volunteers! Chilly, hilly and fab!"