Edinburgh, Stockholm, Netley – club will travel anywhere for a good race!
HRRL Netley 10k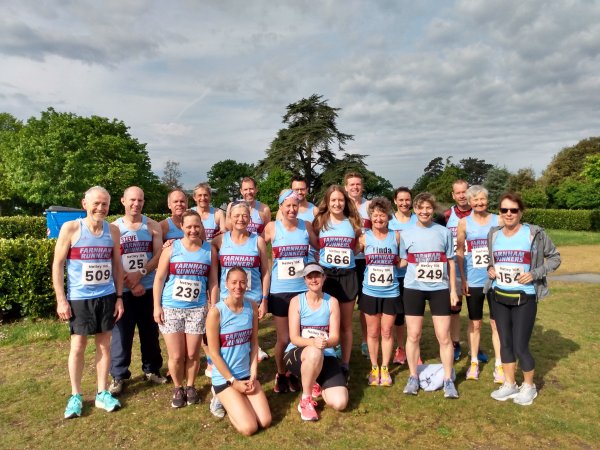 Farnham Runners repeated their successful team results at the Alton 10 the following week at the Netley 10km, organised by Southampton AC. There is one race to go in the series, the Alresford 10km, but all the Farnham club's A and B teams already look set to remain in the top divisions.
It was a long journey with an early start yet 27 members made the effort to support their team. Nik Darlington was the only one to squeeze in his finish before the heavens opened and the rest were soaked in a continuous heavy deluge. As usual for the Netley 10km, the finishing memento as well as a medal was a towel, never more needed! Nik was in a very strong leading pack for the first half before finishing in a splendid time of 34:25. This gave him 5th place of the 537 finishers and was a new personal best.
Next was James Clarke, getting back to his full fitness in an excellent 36:14.
Neil Ambrose was just over 40 minutes in 40:05, while Chris Raby, improving with every race was delighted with his PB of 41:24. His effort was rewarded with the final place in the A team, and he was also 3rd M60 in the race. This team came 5th on the day and they lie 5th of the ten clubs in the top division.
Justin Clarke in 41:51 headed a close-packed B team with Luke Smith in a PB 41:54, Ivan Chunnett in a PB 42:06 and Tony Jones in 43:06. They came 6th in B Division One.
The C team came out top of B Division Two, bringing them up to 8th of 19 clubs in that Division. They were Terry Copeland, 6th M60 in 43:29, Steve Bailey in 44:16, James Goodwin in 44:37 (PB) and Mike Smith in 46:18.
Tony Hollands raced his first road race in Farnham colours in 51:42 and Clive Frostick came in a minute later in 52:51. Douglas Blyth was pleased to be back racing after an injury and to record a chip time of 1:10:15.
The first four Farnham Runners ladies were all delighted to record new personal best times for a 10km and they clinched a second team place in the top A division on the day, securing a slot in the top flight for next season.
Kayleigh Copeland almost cracked her 40 minute target in a fine 40:21, to be 10th lady and 4th in the senior category. Louise Granell was recorded a PB of 42:07. Linda Tyler, having gained a new personal best of 45:18 in the recent Vitality London 10km went on to deduct another 41 seconds in 44:43 and was 1st F60. Emma Patton impressed in her first race for Farnham in 44:50.
The B team were 4th on the day and lie 5th in B Division One. Bella Weetch took 4 minutes from her PB in 48:47, while Sue Taylor ran her first 10km race in 50:26. Kay Copeland was 6th F60 in 52:25 and Georgina Anderson deducted over 2 minutes from her PB in 52:27.
The four in the C team that placed 2nd in their Division and lie 2nd were Gill Iffland in 52:15, Jane Georghiou in 52:40, Carol Dare in 55:34 and Clair Bailey in 56:45.
Woodland Woggle 2022
On the same day was the Woodland Woggle.
The Woodland Woggle is one of the local running highlights of the year. This one lap 10km trail race starts and finishes on the beautiful Hampton estate and takes runners on a challenging course across Puttenham Common with undulating hills, great views, bluebell woods and pine forests.
This year, 381 runners took part with 19 representing Farnham Runners.
The Woggle is superbly organised by the Blackwater Valley Runners, with support from the 2nd Farnham (Hale) Scouts and by kind permission of the Estate owners Bridget and Bill Beddell. Runners raise money for local charities Disability Challengers and Phyllis Tuckwell and are rewarded with medals, bacon sandwiches and hot drinks at the finish. Race Director Dave Porter invited Farnham Runner and GB Paralympian Rachel Morris to start the race, which she did before completing the course herself – the first ever wheelchair runner to do so.
Farnham Runners fielded a strong team with Chris Matthews taking 3rd place overall while 3rd M40. Emma Pearson was 7th lady and 2nd F40 and Ali Falkiner was 11th lady and 5th F40. Other runners who braved the wet weather and conquered the hills were Peter Callow, Chris Jackson, Becky Martin, Kate Townsend, Bridgid Walters, Sarah Wilkinson, Sally Kerr, Catherine Crawford, Jackie Wilkinson, Susan Mackenzie, Penny Schnabel, Jacquie Browne, Jonathan Salomon, Rachel Morris, Catherine Crow and Carolyn Wickham.
After completing the race, Emma Pearson, the first Farnham Runners lady finisher, commented:
"The Woodland Woggle is one of the most scenic 10ks around, with breathtaking views but also a lot of hills! So well organised, amazing marshals and a bacon roll at the end makes it one of my favourite races."
View more photos on the 2022 photo gallery page
Edinburgh Marathon
Two weeks later Linda Tyler and Nik Darlington tackled the Edinburgh marathon in perfect weather.
Linda found the course tougher than she expected and yet she finished an excellent 2nd F60 out of 35 in the category in 3:44:28. She enjoyed the support of the crowd and members of the Tyler family.
Nik had kept up a rigorous training plan of up to 90 miles per week. He wrote:
"Marathons are unpredictable. You train for at least 3 or 4 months and it can all be undone on the day by weather, conditions, or the fickle nature of the human body. It is vital to the success of any marathon to set a realistic and broad goal.

Based on how my training block had gone, I went into last weekend's Edinburgh Marathon confident that 2h36 was a rational upper target.

We always aspire to a PB, so 2h42 was the logical base target.

Aiming a bit higher and 2h40 isn't just a nice milestone, but the qualification time for a championship entry to the London Marathon.

So 2h36 to 2h39 (and 59 seconds!) seemed like a target broad enough, ambitious enough, yet definitely achievable.

In terms of average splits that's 5'57" to 6'06" per mile, which is pretty large in marathon terms.

That large spread would prove to be crucial because the race didn't go to plan and yet I came out of it happy having achieved my goal. Too narrow a target and if disaster strikes, you have less of a window to aim for.
This was a lifesaver when cramp struck the sole of my left foot about 18-19 miles in on a dusty, loose gravel path (as I later found out it did for others too).

At that point I was on track for the upper end of my target. But I knew immediately that was no longer on the cards. With the sole of your foot cramping your stride needs to adapt, becoming much shorter and less fluid. Diminishing your running form at this stage of a marathon puts everything else out of kilter so I soon found my calves started to cramp as well.

Some mental arithmetic told me that if I could just about cling on to 6'30" splits or thereabouts for the rest of the race, the lower end of my target was still in reach. At this point, just having anything to aim for is vital.

So this is me approaching the finish line and looking up at the clock, reading 2 hours, 39 minutes and 58 seconds.

After 4 months of training, more than 2½ hours running, it all came down to 2 seconds!"
Stockholm Marathon
Five Farnham Runners flew to Stockholm for some gentle sightseeing and a marathon. Stockholm Marathon was established in 1979 and, in contrast to most city marathons, starts at 12noon on Saturday rather than a Sunday morning.
Despite chilly weather in the preceding days, Saturday morning was hot and sunny. As the runners waited, in the bright sunlight, on an astroturf pitch, the temperature hit 24oC. Sunscreen was liberally applied and sunglasses were retrieved from race bags before they made their way to the start alongside Stockholm's Olympic Stadium.
The route a convoluted and partially lapped course around the islands that make up the city of Stockholm. It was far from flat, with 300m of elevation, had many bridges to cross and a few underpasses, including a 600m long tunnel to navigate. Unlike other city marathons, the crowds were somewhat restrained, watching quietly until they saw someone they knew and cheering that person.
The finish line was in the Olympic Stadium – allowing for a 300m sprint around the track to the finish – time to put Monday night track training to good use!
Despite the warm conditions there were some excellent performances from Farnham Runners, Matthew Wernham came third in the M65 section with a time of 3hrs 27min 32sec, Richard Denby continued his PB collecting form in his second marathon (3hrs 29min 27 sec*) while Stephen Dick also ran a PB (3hrs 30mins 38secs) . Victoria Dick ran a season's best time of 3hrs 50mins 27secs and Cath Wernham came 11th in her age category with a time of 5hrs 28mins 37secs*
* These are both new age group club records!
---
Woodland Woggle report by Nicola O'Connor
Edinburgh Marathon report by Nik Darlington
Stockholm Marathon report by Victoria Dick